We may not like it, but keeping the home free of dirt is an indispensable task in our daily lives. However, there is already an option available that allows us to dedicate ourselves to other activities while someone else cleans for us. And it is not necessarily by hiring a household employee, but by getting the best Robot Vacuum Cleaner of 2021, to relieve us while we work, practice sports, sleep, etcetera, etcetera, etcetera.
Sounds great, doesn't it? It is! Investing in these devices is an action you will not regret. In fact, in recent years, robot vacuum cleaners have greatly increased in popularity because there are more and more affordable models with super decent features.
Best Robot Vacuum Cleaners in 2021
At SuperChef we have developed a variety of models that offer a wide range of functions, which are adapted to the highest quality standards. And best of all? You can get them at an incredible price. Go!
CleanFast SF407 – Smart, efficient and inexpensive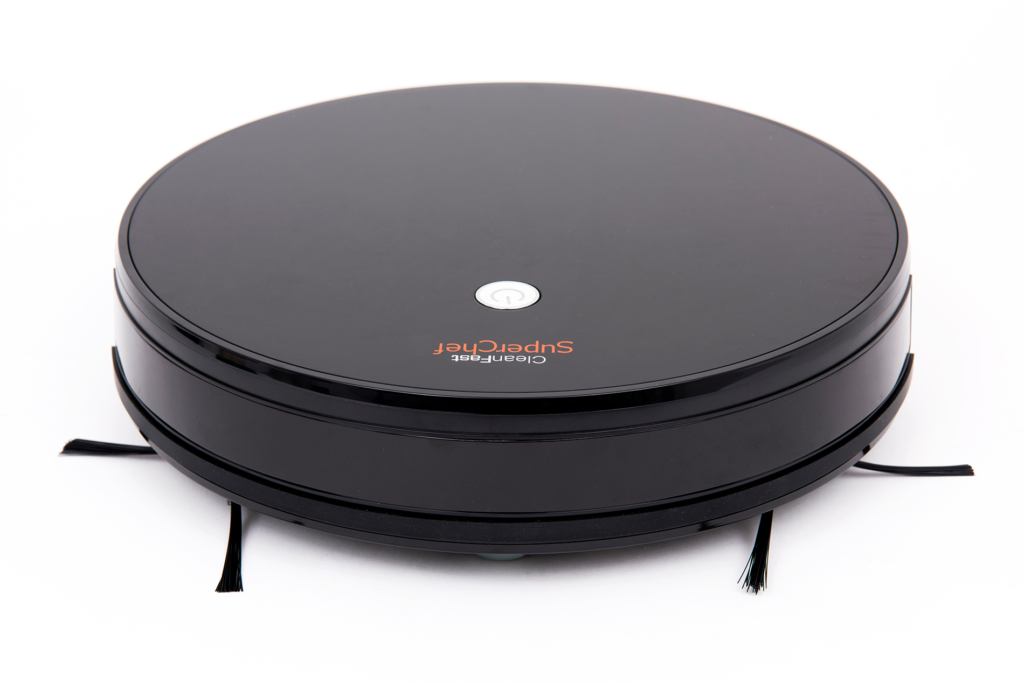 The CleanFast SF407 may not give the impression of being the best Robot Vacuum Cleaner of 2021 because of its modest and simple appearance, but it is a step ahead of many models sold at the same price. It is nothing less than a device that provides methodical and impressive cleaning on any type of hard floor: ceramic, wood, including soft surfaces such as carpets and rugs.
Surprised? You will be even more surprised to discover that this vacuum cleaner is able to learn on the fly, thanks to its Intelligent Gyroscopic Navigation system that removes dirt in an orderly and efficient way without repeating on places already vacuumed.
It has also been equipped with infra-red sensors that detect obstacles in the environment in order to avoid collisions and falls. How does it do this? By regulating its speed once it identifies potential difficulties.
One of the most remarkable features of this robot vacuum cleaner is that its presence is barely noticeable during each day. And it will do its job quietly reaching less than 65db, which means that you will have no problem to take a nap at the same time that performs his day.
At its core is a 2000 Pa brushless motor, equipped with an intelligent power regulation system. That is, according to the peculiarities of the surface, this device will regulate its power automatically. Although you can select the type of suction you want it to work with: spot, random, wall, gyroscopic, etc.
Last but not least, the CleanFast SF407 will return itself to its charging base once the battery is on the verge of running out of power. In addition, it is possible to program it seven days a week with a remote control. Isn't it wonderful?
SmartClean SF420 – Helpful and efficient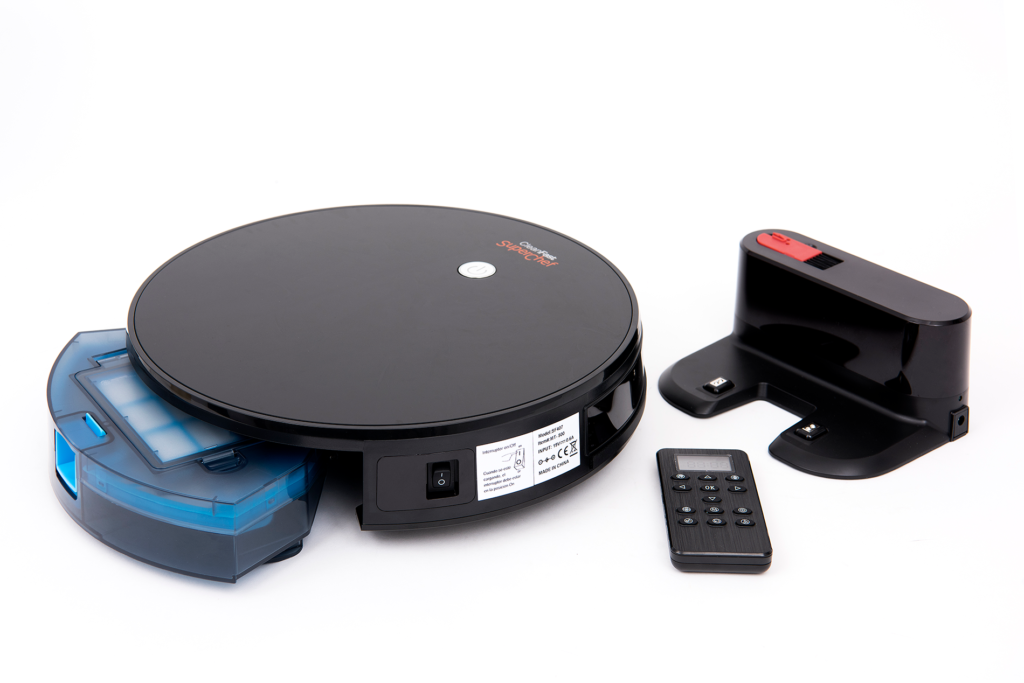 The SmartClean SF420 is one of the most helpful models of our range of robot vacuum cleaners for its three cleaning modes: sweeping, vacuuming and mopping. It is intuitive, intelligent and very effective at removing dirt, especially because of its rotating brush and side brushes that are able to reach the different corners of the home.
You may be excited to discover that many consider it to be the best Robot Vacuum Cleaner of 2021 in terms of value for money because it is easy to configure and has an Intelligent Gyroscopic Navigation system so that it does not repeat the cleaning operation in the areas already vacuumed.
It is possible to configure it in different types of suction: Turbo, Wall, Spiral, Full Go and Gyro. So you will have the possibility to adjust its cleaning system according to your needs, guaranteeing excellent results.
The SF420 also has the luxury of boasting a high suction power of 1800Ka, a feature that may lead you to think that it produces a loud noise, fortunately, this is not the case.
This model of the SuperChef family besides being very helpful, you can hardly feel it when you walk around the different areas of the home. In addition, its anti-shock and anti-drop sensors will prevent other noises caused by collisions or falls.
If you get this model, you can leave the house at ease and program it remotely to vacuum while you have fun or work. No doubt it will be a great ally for you.
SmartClean SF421 – A 4×4 Robot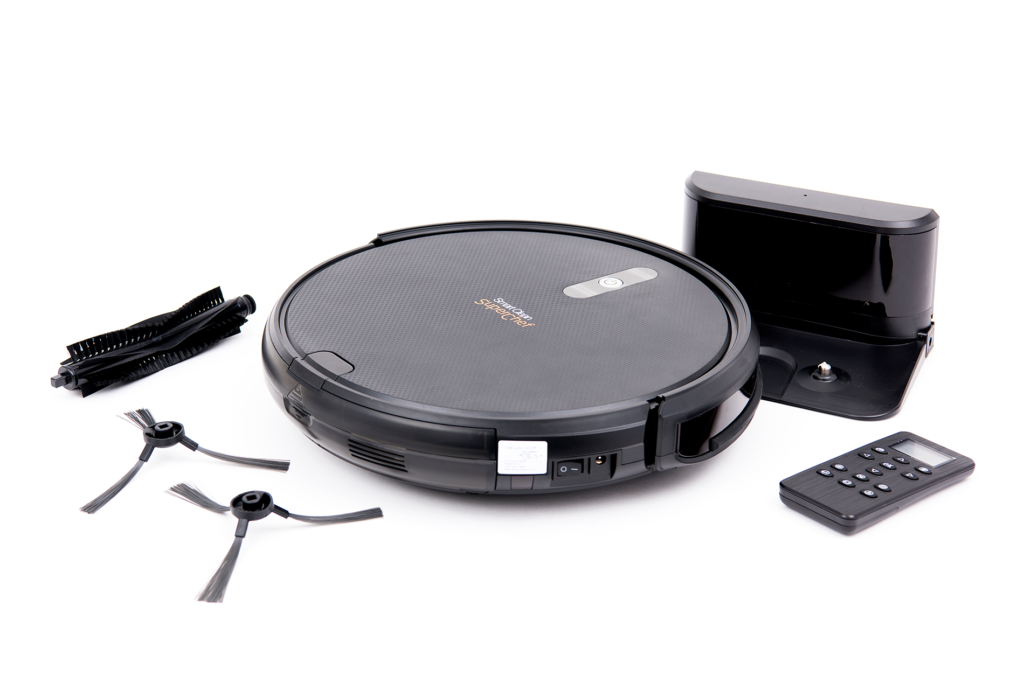 With four cleaning modes and intelligent mapping technology, the SmartClean SF421 performs impressively on both carpets and hard floors. Therefore, we could say that it is a 4×4 model in the world of robotic vacuum cleaners which will be available to do its job when you need it most.
Without exaggeration, it is the best Robot Vacuum Cleaner of 2021 in its 4-in-1 category: vacuums, sweeps, mops and mops. Especially because it performs all these functions in an orderly fashion, avoiding collisions or falls. Not to mention that it has a 0.6L tank, which represents a pretty decent capacity for its price range .
It incorporates an electronic water tank whose technology is able to control the water output precisely when scrubbing the surface. That means it will prevent messes and you will get a clean floor in all its splendor.
Now how long can this device sweep, mop and scrub? Well, its 2600mAh lithium battery allows it to work for a time of 90 minutes, enough to leave the floor of your home in a spotless state. Of course, once the robot detects that its battery does not have enough power, it will automatically go to its charging station.
In short, it is a Robot Vacuum Cleaner equipped with sophisticated technology that you can program whenever you want it to do its job. We assure you that the SF421 represents a great success for the most demanding users.
Conclusions: What is the best Robot Vacuum Cleaner of 2021?
For the SuperChef team, the best Robot Vacuum Cleaner of 2021 is the one that best suits your needs, based on some factors that you should take into account before making a choice: Do I need the device to not only vacuum, but also sweep and mop? Can it remove dirt in 90 minutes or less? What is the budget I have?
Although there are models in our family of robot vacuum cleaners equipped with state-of-the-art technology, you may need a model with less sophisticated features, either because you want to try a simple bet or because your budget is only enough to buy one with simpler features.
Is this the case for you? The best Robot Vacuum Cleaner of 2021 for you, maybe it is the CleanFast SF407 because it is a smart, efficient and above all cheap model. But, if your goal is to get a more helpful product with higher performance, but you want to save some money, we recommend the SmartClean SF420.
Now it is possible that you want a robot with more advanced technology and that will not disappoint you over time, if so, it is best that you opt for the SmartClean SF421. Its price is not very high compared to the features it brings together. Come on, make your purchase now!