In no kitchen, the orange juicer should be conspicuous by its absence. Is yours not yet equipped with this useful and practical device? Well, maybe it's time to acquire a model that fulfills the function of extracting the greatest amount of juice from this fruit in a first try. And you, how powerful do you think an orange juicer should be?
And you may not be going to choose the partner of your life, but if you don't make the right choice you will surely regret it. For this reason and much more, you need to ask yourselves, what power should an orange juicer have? The first thing to keep in mind is that the power of the motors of these devices ranges from 25 to 100W.
Of course, the more powerful the device the faster the extraction will be. For home use a model with 50W is enough to make your juices. But what happens when you need a juicer with professional qualities? What would be the perfect power? Do not miss this post.
How powerful should an Orange Juicer be?¿Qué potencia debería tener un Exprimidor de Naranjas?
The level of daily juice production will determine how much power you need to meet the demand. Will a 100W do the trick? Possibly, but if not, you may regret having invested so much money in such a powerful model.
To find out what power an orange juicer should have, it is important to answer four key questions:
What is the purpose of buying a juicer? This could be a question that further clarifies the picture for your business. The type of facility you have will direct you to the model you need.
What is the flow rate or volume of orange juice I will produce daily? Depending on the amount of glasses or bottles you are going to load, it is also important to make your choice.
What will you use it for? Determine if you plan to leave the machine in self-service, or if your business requires serving customers directly. Elucidating this point will allow you to know what type of juicer to choose.
How much space do you have, a counter, a buffet table or a supermarket shelf? The size of the device will have to fit the dimensions of the space you want to allocate for this task.
These four questions will do the job by themselves. Whether you make 2 or 200 orange juices a day, there is sure to be an option that suits your needs. The main thing is to choose a quality juicer. Models with professional features provide the possibility of obtaining juices without losing the nutritional values of the fruit, and they are also quick to clean.
Why is device power essential?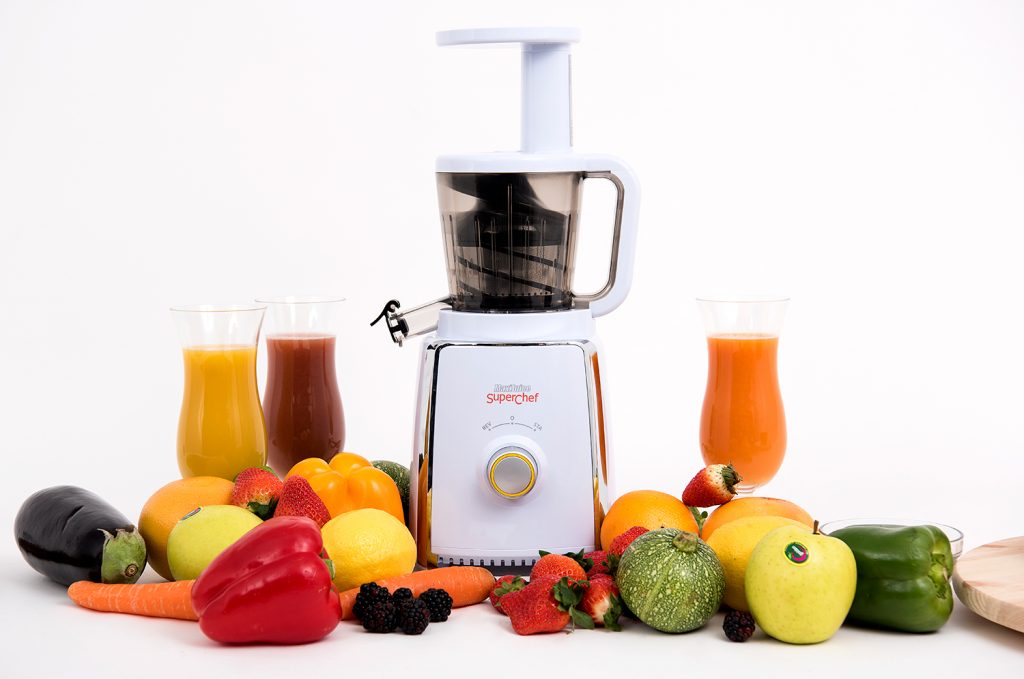 The power of a juicer is essential in professional areas. That is why it is important to choose a model that fits your needs.
Intensive use of a model designed for home use could cause early wear and tear on your juicer and affect the quality of the juice. In fact, if your device is of good quality and has a solid motor, its improper use could cause breakdowns. In case this happens, you can visit our spare parts section to find a solution.
Well, maybe you are still wondering what power an orange juicer should have. We anticipate that if you choose one of 100 W, only the skin of the fruit will remain! But this way the juice does not lose its nutritional values, and how is its flavor? You should analyze this carefully if you want to offer the best to your customers.
The power of a professional automatic juicer can squeeze up to 40 oranges per minute in an industrial production context. You may or may not need something like this. It all depends on your needs.
What you should keep in mind is that your orange juicer should be reliable, efficient but also hygienic. In addition, if we are talking about a business environment, the device should extract juice from various types of citrus fruits: oranges, lemons, tangerines, etc.
Other factors to consider
Knowing what power an orange juicer should have is not the only factor to take into account, there are other features that you should not ignore before making a choice.
It is necessary to consider the safety of the device and the user. Therefore, it would be ideal to opt for machines equipped with safety sensors. It is also interesting to choose a machine with several operating modes:
Automatic start mode: The juicer is activated by simply inserting the fruit.
Professional mode: You can program the amount of oranges or citrus fruits to be squeezed.
The model you get should also:
Be easy to assemble.
Quick to clean.
Offer significant stability during use.
Be made of quality materials.
Finally, pay attention to the warranty it comes with. That way you will know if you can take it to one of the manufacturer's centers in case it breaks down quickly.
Conclusions
After all, power is one of the most important technical specifications when it comes to buying this type of appliance. Once you answer the key questions, you will have a clearer picture of what power an orange juicer should have.
We hope this post has been helpful and that you will be able to determine what kind of juicer you need for your business or home.